Vendor Opportunities: Exhibits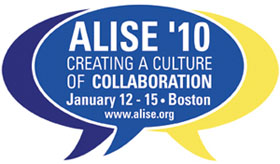 Exhibitor Space Reservations Due November 13, 2009
ALISE Exhibitors ($1,500)
Each vendor that contributes $1,500 to ALISE will receive one table in the exhibits area that will be centrally located to the approximately 500 conference participants. Exhibitors will also receive:
Recognition in the conference program and on the ALISE website
Displaying your company's name on the "Thank You Sponsors" sign
Recognition by the ALISE President at the Opening Session and Business Meeting.
Placement of one item in the conference packet
One set of ALISE mailing labels
Two complimentary exhibits-only registrations for employees working the booth.
Note:

Booth Equipment: Exhibitors will work directly with the hotel and purchase separately any AV, phone, internet, and electricity needs.
Exhibitor Registration: All exhibitors will be required to register for the conference. Each booth is allowed up to 2 complementary, exhibits-only registrations for booth workers. Registration open in October 2008. Exhibitors should use the pdf version of the registration form. Please complete, mark as "Complimentary Vendor" and fax it to headquarters at 312-419-8950.
Friends of ALISE Table ($100)
Each vendor that contributes $100 or more to ALISE will be allowed to place materials on the "Friends of ALISE" table in the registration area.
Exhibit Space - Order Form (doc)
Exhibitor Space Reservations Due November 13, 2009
For more information please contact Kathleen Combs, ALISE Executive Director, at kcombs@alise.org or call 312-795-0996.

COPYRIGHT 2009 - Association for Library and Information Science Education (ALISE)