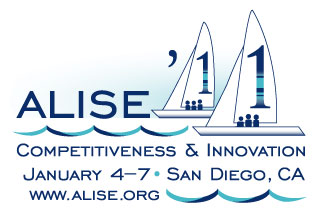 President's Report 2011
It has been a challenging and rewarding year, made sorrowful with the loss of beloved ALISE past president Norman Horrocks, but also heartening, by the committed hard work of loyal and conscientious members. In the pages that follow, you can read what ALISE has accomplished over the year. The ALISE Board is guided by the ALISE mission and priorities outlined in "Planning for Tomorrow: Strategic Directions, 2007-2010," which was approved by the Board in April 2007. (Please refer to the ALISE website for the full document: http://www.alise.org/mc/page.do?sitePageId=74574&orgId=ali)
With the end of one strategic planning cycle, the Board is currently engaged in determining strategic directions for 2011-2014. As part of the process, constituent input will be gathered at the 2011 Conference in San Diego through a Town Hall meeting. Member feedback will be incorporated into a planning document which will be reviewed for approval at the spring 2011 Board meeting in April.
Through 2010, I am pleased to report that we have made progress on all five directions articulated in the current strategic plan, "Planning for Tomorrow: Strategic Directions, 2007-2010."
ALISE Academy At the 2011 ALISE Conference, with the financial support of the H.W. Wilson Foundation, we are offering the third ALISE Academy, a continuing education opportunity designed to provide support and inspiration to members at all stages of their careers. In recognition of the broad nature of LIS education, this year's Academy centers on the career development for those in archival science, museum studies, rare books and special collections, and preservation education. Co-chairs Anne Gilliland (UCLA) and Cecilia Salvatore (Dominican) worked with the committee to plan three workshops: "Early Career Planning for Doctoral Students and Junior Faculty" (Anne Gilliland, Professor, UCLA; and Sidney Berger, The Ann C. Pingree Director of the Phillips Library at the Peabody Essex Museum and Adjunct Professor, Simmons College); "From The Outside In: Bringing Cultural Heritage Institutions Into The Classroom (Michele Cloonan, Dean and Professor, and Martha Mahard, Professor of Practice, Simmons College); and "Developing Research and Collaborative Programs for Cultural Heritage: Connecting the Dots" (Tula Giannini, Dean and Professor, Pratt Institute; and Kevin Cherry, Senior Program Officer, Library Services, Institute of Museum and Library Services IMLS).
IMLS Grant Applications ALISE continues to work with colleagues on grant funding opportunities and proposals. In 2010 ALISE collaborated with Danny Wallace of the University of Alabama in submitting to IMLS: "An Open Access Searchable Database System for the ALISE Statistical Data Program." ALISE worked with George Coulbourne and Kristopher Nelson from the Library of Congress on the IMLS planning grant "Library, Archive, and Museum Internships in Advanced Digital Technologies." In partnership with Cathleen Bourdon of ALA's Communications and Member Relations unit, ALISE will collaborate on an IMLS National Leadership Collaborative Planning Grant concerning the ALA Libraries Matter Web Portal.
JELIS Under the leadership of editors Kathleen Burnett and Michelle Kazmer (FSU) the Journal of Education for Library and Information Science (JELIS) has published a number of research articles, brief communications and discussions of research in progress, and the ALISE 2010 Best Conference Papers. The journal will continue to showcase outstanding contributed papers presented at each Annual Conference. The editors continue management and updating of the companion website for JELIS at http://jelis.org. The goal is to raise the visibility of the journal and to create an interactive website that engages the ALISE membership and others interested in LIS education in scholarly conversation. Examples in advancing that goal are announcements such as the posting of the 2010 ALISE Best Conference Paper Award Winners. Articles developed from these papers appeared in Volume 51, no. 4, published in October 2010. The winners are:

Sidath Gunawardena, Rosina Weber and Denise E. Agosto, Finding That Special Someone: Interdisciplinary Collaboration in an Academic Context

Bill Kules and Jennifer McDaniel, LIS Program Expectations of Incoming Students' Technology Knowledge and Skills

Scott Nicholson, Inviting the World Into the Online Classroom: Teaching a Gaming in Libraries Course via YouTube

Jeannette Bastian, Ross Harvey, Martha Mahard and Terry Plum, Building a Virtual Archives and Preservation Curriculum Laboratory at Simmons College: A Case Study in Collaborative Construction

2011 Annual Conference The ALISE 2011 Annual Conference, "Competitiveness and Innovation" offers multiple opportunities for presentation and discussion of research with Work in Progress posters and the Doctoral Student Research Poster Session, and other program and contributed paper sessions with a research focus. Conference chairs Mary Stansbury (Denver) and Dan O'Connor (Rutgers) hope to stimulate further research and teaching discussions through the networking opportunities afforded by the conference, including a new opportunity with scheduled, but informal "unconference" topics in the hospitality suite.
ALA Several ALISE institutional member schools collaborated on staffing the ALISE booth that anchored the LIS Education Pavilion area of the exhibit hall at the ALA Annual Conference in Washington, DC in June. ALISE also coordinated the popular Cooperative Library School Reunion at ALA Annual.
ALA-COE ALISE continues to partner with the ALA Committee on Education to sponsor a forum at the ALA Midwinter Meeting on Friday, January 7, 4:00-5:15 p.m. Susan Roman, External Relations Director and ALISE liaison to ALA COE, along with COE member Michael Miller, developed this year's program theme: "LIS Faculty and Practitioners Surviving and Thriving Together."
ALA Advocacy In solidarity with our constituents, ALISE members joined the ALA rally for support for libraries, librarians and library workers, research programs, scholarships and other funding needs at Library Advocacy Day on Tuesday June 29, Capitol Hill. With 1,600 ALA members and advocates of all ages, ALISE was part of the largest federal advocacy event in library history.
FLICC In collaboration with the Federal Library Information Center Committee (FLICC) ALISE invited its members to a special session held at the Justice Department regarding Intelligence Analysis as an alternative career path for MLS librarians. The program, Intelligence analysis: A discussion of convergent skills and the future, held during the ALA Annual conference in Washington, D.C. attracted over sixty attendees from around the United States and Canada.
IFLA For the third year, Kathleen Combs organized a dinner for ALISE members attending the IFLA World Library and Information Congress which took place this year in Gothenburg, Sweden in August.
ALISE continues to seek opportunities to partner with the IFLA Sections on Education and Training (SET) and Library Theory and Research (LTR). ALISE collaborated in the planning and management of an IFLA-ALISE-EUCLID satellite meeting, "Cooperation and Collaboration in Teaching and Research: Trends in Library and Information Studies Education" held August 8-9, 2010, at the Swedish School of Library and Information Science, Borås, Sweden prior to the IFLA conference in Gothenburg.
ALISE will be represented at the IFLA Conference in Puerto Rico, August 2011.
Australian Project Past President Linda Smith participated as an interviewee in the research project "Re-conceptualising and re-positioning Australian Library and Information Science Education for the 21st Century." This project is funded by the Australian Learning and Teaching Council. The project will develop a framework for the education of the information professions in Australia. Additional information may be found at: http://www.altc.edu.au/project-reconceptualising-repositioning-library-education-qut-2009
Wuhan (China) Celebration ALISE co-sponsored the Third International Symposium on Library and Information Science Education in the Digital Age at Wuhan University, China. At this event, ALISE also celebrated with colleagues from around the world the occasion of the 90th Anniversary of the Wuhan University, China, School of Information Management. Secretary/Treasurer Dr. Jean Preer was ALISE ambassador and traveled as a guest of the Wuhan University School of Information Management. She presented a complimentary ALISE membership and a proclamation commemorating the accomplishments of the school to Dean Chuanfu Chen, and delivered a paper "Looking Back to the Future: The Origins of the Information Age in the 1920s."
Volunteers Membership in ALISE committees for 2010 included many respondents to the online volunteer form used for the first time in fall 2008, ensuring broader participation by ALISE members in the work of the association. Vice President/President-Elect Lynne Howarth (Toronto) has again used this approach to invite ALISE members to volunteer for committee service in 2011.
Constituent Communication Continuing the efforts of increasing constituent communication, under the leadership of convener Susan Maret (SJSU), the ALISE Part-time and Adjunct Faculty Special Interest Group is fostering opportunities for increased discussion among LIS part-time and adjunct faculty through both a discussion list on Yahoo User Groups: ALISEadjunct@yahoogroups.com and a Facebook page.
For the Council of Deans, Directors, and Program Chairs, the ALISE board approved usage of the social networking site Ning.com.
Relationship with jESSE@listserv.utk.edu ALISE affirmed its website as the official channel of ALISE communication. ALISE's relationship with the electronic mailing list jESSE is clarified with monthly messages posted by Gretchen Whitney to the jESSE list.
NWHM (National Women's History Museum) As one of the founding organizations that are members of the National Women's History Museum National Coalition (http://www.nwhm.org/about/nationalcoalition.htm), ALISE had a presence at the ALA COSWL joint program with NWHMN at ALA Annual Washington, DC. The program reviewed the progress of the NWHM Project in developing grassroots support and legislative action towards creating a permanent, physical site for a national museum dedicated to the accomplishments of women in America.
WILIS ALISE Board members have served on the Advisory Committee for the IMLS-funded WILIS (Workforce Issues in Library & Information Science) project for which Joanne Gard Marshall (North Carolina-Chapel Hill) is principal investigator. We continue to contribute to the next phase of the study that is gathering data for several more programs beyond the six North Carolina programs that participated in the initial study (http://www.wilis.unc.edu).
We have now completed four years with the Medical Library Association as our management firm and Kathleen Combs as our Executive Director. We continue to strengthen our administrative and fiscal infrastructure. The board is conducting an evaluation of our management firm as part of the contract renewal process.
ALISE Statistical Data Manager Danny Wallace (Alabama) has worked diligently to prepare and publish the remaining back volumes of the ALISE Statistical Report. He is also planning ahead for enhancements to move from static annual reports to ongoing maintenance of a database that could support customized reporting. He recently re-submitted a grant proposal to IMLS seeking support for the design, development, and implementation of a sophisticated database system for managing all aspects of the annual statistical data gathering process and retrospective inclusion of data for all years since 1980.
Following up on the strategic plan for adjunct and part-time faculty by former ALISE president Ken Haycock, and through the financial sponsorship and organizational support by San Jose State University and director Sandy Hirsh, an Adjunct/Part-time Faculty luncheon is being held to gain insight on adjunct/part-time faculty member needs in LIS education.
The ALISE board has sought to economize where possible, maintain existing revenue streams, and pursue new opportunities for revenue growth. Efforts include:
Launching a Centennial Celebration Centennial Campaign. With ALISE's Centennial approaching in 2015, the board kicked off a centennial campaign for 2011-2015 with all members of the board contributing generously to this fund-raising initiative.
Continuing to use teleconferencing for the fall meeting.
Working closely with ALISE Headquarters staff to increase the member renewal rate in addition to seeking new members.
JSTOR released access to retrospective coverage of JELIS (originally published as Journal of Education for Librarianship) beginning with the first volume.
Under the leadership of Secretary/Treasurer Jean Preer (Indiana), the Committee on Development and Advancement is working to identify and pursue new revenue streams.

LSU SLIS With input from the ALISE board, I prepared and submitted a letter on 31 May 2010 to the Louisiana State University Board of Supervisors condemning the proposed elimination of institutional member LSU SLIS. This response sought to represent the interests of ALISE institutional members who have ALA-accredited programs and to convey the strength and relevancy of our discipline.
Ethical Guidelines Under the leadership of chair Toni Carbo (Drexel), the ALISE Code of Ethics for Library and Information Science Educators Task Force has worked for the past three years to develop Ethical Guidelines for Library and Information Science Educators. This document was presented to the membership at the 2010 Annual Conference by the Task Force and placed on the 2010 ballot. The statement passed with 87% of the vote. It will be made available on the web site for ready access by members of ALISE and others interested in ethical guidelines for faculty in higher education. The impact and usefulness of the guidelines will be reviewed in two years.
Conference Panel on Funding To facilitate competitiveness and innovation in our field, the importance of grant funding is essential. In support of our members, ALISE is pleased to host a Funders Panel consisting of Kevin Cherry, IMLS; George Coulbourne, Library of Congress; Valerie Florance, National Library of Medicine; Charles Kolb, National Endowment for the Humanities; and Lynn Silipigni Connaway of OCLC at the 2011 conference.
Building on the work of our predecessors, in the past year much has been accomplished by the ALISE board and many ALISE members, with support from our Executive Director Kathleen Combs and other staff. I have witnessed firsthand the innovative practices that keep ALISE competitive and relevant. In my work with the board, the Conference Program Planning Committee, and the many other member volunteers who gave their time and talents to ALISE through work on committees and in SIGs, ALISE is sure to remain the premier "visionary organization in Library and Information Science education. The Association will be known for its unique purpose, build its strength and communicate that strength through vision, voice and visibility."
It has been an honor to be your president this year. ALISE has been an important part of my career since I first joined as a visiting assistant professor in 1990 and I look forward to continuing my involvement.
Lorna Peterson
ALISE President, 2010-11