2011 ALISE Adjunct Event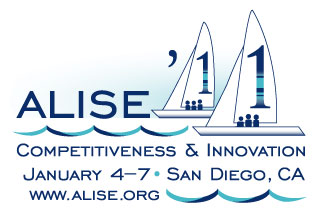 New Realities for LIS Part-Time Faculty:
Part-Time and Adjunct Faculty Lunch and Discussion

(An Invitation-Only Event)
Sponsored by the San Jose State University School of Library and Information Science
Thursday January 6, 2011 12:15 p.m. - 1:30 p.m.
Calling All Part-Time and Adjunct Faculty!
The ALISE Membership Advisory Board and the Part-Time/Adjunct SIG want to hear from you. Please join us for a lunch and discussion sponsored by the San Jose State University School of Library and Information Science. Network with your colleagues, enjoy lunch, and share ideas to help ALISE develop useful programs and services to meet the membership needs of Part-Time and Adjunct Faculty. We will talk about topics such as:
ALISE and other professional associations: How do you like to engage with these organizations? What kinds of programs and services would be valuable to you? What are other associations doing well that you might like to see ALISE do?
Course Development approaches: LIS schools have different approaches to course development with part-time faculty. Which approach do you prefer and why?
Teaching Effectiveness: What are some of the ways that Schools are helping you become more effective teachers? How do you keep learning and refining your teaching skills
Communication: What communication approaches work best for you?
What kinds of information are most important for you to know about and for Schools to share with you?

Invitations were sent out to all ALISE Institutional Members for this event. If you would like to attend, please contact your institutional representative to see if you can be a part of this event.
COPYRIGHT 2010 - ASSOCIATION FOR LIBRARY AND INFORMATION SCIENCE EDUCATION (ALISE)