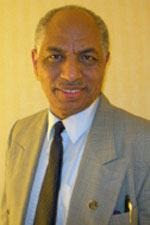 Ismail H. Abdullahi is a professor of Global Library and Information Science. He is a graduate of the Royal School of Library and Information Science in Denmark. He has an MLS from North Carolina Central University (NCCU) and a Ph.D. from the University of Pittsburgh. Prior to his NCCU appointment, he was on faculty at Clark Atlanta University 1992—2005 and The University of Southern Mississippi 1989-1992. He has worked as a librarian in public, special, and academic libraries in Demark and the United Sates. He has also worked as a library consultant in Denmark, United States and United Kingdom.
Dr. Abdullahi is a recipient of many awards, including The Harold Lancour Award for Excellence in International and Comparative Study in Library and Information Science; The Meyers Center Award for the Study of Human Rights in the United Sates; Emerald Literati Award for Internationalization of Library Education in Europe and North America; A Leadership Award from the Black Caucus of the American Library Association; and numerous awards from community associations.
Currently, he is ALA Councilor-at-Large, elected for the third term and Chair of the Committee on Education (COE). He has chaired the ALA International Relations Committee (IRC), the ALA Nominating Committee, and the Committee on Diversity (COD), He is Member of the FLA Section on Education and Training and Convener of IFLA LIS Education in Developing Countries Special Interest Group (SIG).
Dr. Abdullahi has published two books, E.J. Josey: An Activist Librarian (Scarecrow, 1992), and Global Library and Information Science: A Textbook for Students and Educators (K.G. Saur 2009) and numerous chapters in books and articles. His research interests include Global Library and Information Science, Management and Leadership, Internationalization of LIS Education and Diversity and Intercultural Issues.
He teaches LSIS 5000 Foundations of Librarianship and Information Services; LSIS 5120 Management and System Analysis; LSIS 5320 Global Libraries and Information Systems; LSIS 5180 The Public Library and STAB 1000 Study Abroad Denmark.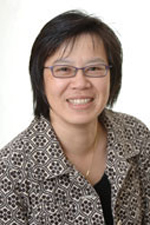 Clara M. Chu is Chair and Professor of the Department of Library and Information Studies at The University of North Carolina at Greensboro. She specializes in the sociocultural study of information systems, institutions, and access, applying a critical lens to understand the usage of and barriers to information in multicultural communities. As a Peruvian-born, Chinese Canadian American, her transnational and ethnic minority experiences shape her worldview and the distinctive position from which she examines information issues, learns with students, and informs professional practice. Having published, presented and consulted internationally in English and Spanish, she is a leading voice on multicultural library and information issues.
She actively recruits people of culturally diverse backgrounds into the information profession and initiated Program PRAXIS: A Pre-Doctoral and Recruitment Program for Tomorrow's Culturally Diverse Information Studies Faculty and Leaders http://polaris.gseis.ucla.edu/cchu/praxis/praxis.htm, with a major federal grant (2002-03) and led the initiative to establish the Information Studies and Asian American Studies dual master's degrees program at UCLA. She is an active member of professional associations addressing multicultural librarianship, currently serving on the Steering Committee of IFLA's Section on Education and Training. While serving on the Section on Library Services to Multicultural Populations, she assisted with the development of the IFLA Multicultural Library Manifesto, now endorsed by UNESCO. She is recipient of the American Library Association's 2008 Library Diversity Research Honor and its 2002 Equality Award, and was selected as the 2008 Dr. Jean E. Coleman Library Outreach Lecturer. She was named a 2005 Library Journal Mover & Shaker, which recognizes people who are shaping the future of libraries.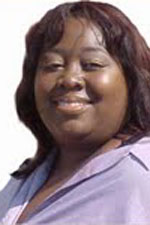 Renate Chancellor is Assistant Professor at the Catholic University of America School of Library and Information Science. She is a graduate of the Department of Information Studies at UCLA where she received both her Ph.D. and Masters in Library and Information Studies. As a former law librarian, Dr. Chancellor was primed to oversee the number #2 ranked law librarianship program in the nation. She has been at this post for the last year and has expanded the program considerably. Her research interests include exploring how members from underserved communities access and utilize information. She is currently working on a project investigating the information seeking patterns of low-income residents in the Washington, DC region. She received a fellowship in 2005 to conduct research on the history of the Black Caucus of the American Library Association (BCALA). Her dissertation was a historical study on the life and professional career of E.J. Josey. She was a recipient of a PRAXIS Scholarship in 2003, PRAXIS: A Pre-Doctoral and Recruitment Program for Tomorrow's Culturally Diverse Information Studies Faculty and Leaders http://polaris.gseis.ucla.edu/cchu/praxis/praxis.htm and the UCLA Library Scholars Fellowship in 2004. She has presented at numerous conferences on topics related to social justice and is currently the Multicultural and Humanistic Concerns SIG Co-convener.
Nicole A. Cooke is an instruction librarian and tenured assistant professor at Montclair State University's (NJ) Sprague Library. Her research interests include LIS distance education and instruction, human information behavior in online settings, the retention and mentoring of minority Librarians and LIS Doctoral Students, and leadership, organizational development and communication in libraries.
She is a frequent reviewer for Library Journal, a column editor for Public Services Quarterly, and has published profiles in the African American National Biography project, articles in College and Research Libraries News and The Journal of Library & Information Services in Distance Learning, the New Review of Academic Librarianship, and several book chapters related to information literacy instruction. She is co-author with Sheri Edwards of "The Spectrum Doctoral Fellowship Program: The Future is Overdue" JELIS, 51(3), 25 July 2010 http://jelis.org/featured/the-spectrum-doctoral-fellowship-program-the-future-is-overdue-by-nicole-a-cooke-and-sheri-edwards/)
Named a Mover & Shaker in 2007 by Library Journal, Nicole is professionally active in ACRL, ALISE, and several New Jersey library organizations. She holds the MLIS degree from Rutgers University, a M.Ed. in Adult Education from Penn State, and is currently a Spectrum Doctoral Fellow and doctoral candidate at Rutgers University.
Sandra P. Daley As the Associate Chancellor and Chief Diversity Officer (CDO) at the University of California, San Diego (UCSD), Sandra P. Daley works half-time in the Chancellor's Office and is responsible for coordinating efforts and working with colleagues university-wide to enhance UCSD's overall diversity. Doctor Daley is the primary liaison between the University and individual communities to increase communication and collaboration as it relates to diversity issues. Prior to her position as Associate Chancellor and CDO, she worked with her colleagues in the UCSD School of Medicine to design a faculty development program that has resulted in increasing the retention of junior faculty in academic medicine and she is now working with her colleagues to develop a comprehensive plan for recruiting undergraduate students. Over the last 30 years, Daley has secured over $22 million from federal, state and private agencies to create and support programs that aim to eliminate health and educational disparities.
Dr. Daley is a pediatrician and an alumna of both the Kellogg Leadership Fellowship Program and LEAD San Diego, a local leadership program. Daley spent her childhood years in a poverty stricken neighborhood in Panama, raised by her grandmother until her mother was able to send for the children to move to the United States to be with her. Being the oldest, Daley helped care for her siblings while completing her education. She overcame discrimination throughout her higher education experience in the 1960s and 70s as a woman, an immigrant and a minority in a career dominated by white males.
In 2010 Dr. Daley was recognized for her hard work and dedication to increase diversity in health professions by The California Wellness Foundation who awarded her with a $25,000 Champions of Health Professions Diversity Award. Daley and her team have established various programs that focus on helping minority students at middle school, high school, community college and undergraduate levels. There are 200 students involved in these programs that were either created by Daley and her team or funded by UCSD. Daley personally works with 80 community college students and 20 to 30 undergraduate students each year to help prepare them for medical school.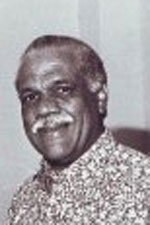 Miles M. Jackson was born in Richmond, Virginia, graduated with a bachelor's degree in English and sociology, an MLIS from Drexel University and a Ph.D. from Syracuse University. He has held positions with the Free Library of Philadelphia, and administrative positions at Hampton University, Atlanta University, State University of New York, and Government of American Samoa. In 1975 he accepted a professorship at the University of Hawaii, School of Library and Information Science, becoming Dean in 1982, a position he held until he retired in 1995. He has held short-term consultant assignments for the U.S. Information Agency, and Asia Foundation in Asia and the Pacific Islands.
In 1968-69, he was a Fulbright Professor at the University of Tehran, Iran and upon completing this appointment, he received a Ford Foundation grant for travel in East and West Africa. He has published 7 books and over 50 articles, the most recent are "And They Came: A History of Blacks in Hawaii" (Four-G Publisher, 2010) and "They Followed the Trade Winds" (University of Hawaii Press, 2005). He is the Executive Producer of "Holding Fast the Dream", a one-hour documentary film on African Americans in Hawaii, that had its premiere in Honolulu, October 23, 2010. He was awarded the Hawaii NAACP Lifetime Achievement Award December 2009 at the annual MLK banquet, and he also received the MLK award from the Hawaii Friends of Civil Rights 2010.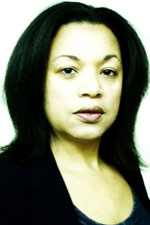 Shari Lee is an Assistant Professor at St. John's University, Department of Library and Information Science, where she earned her MLS with a concentration in children's services. She received her PhD from the University of California, Los Angeles in 2009 and has since earned an Advanced Certificate in School Library Media. Her research considers the changing notions and physical structures of the public library as place and space. She is primarily concerned with how architecture and design elements affect human behavior and how this applies to the public library setting – specifically teen spaces. This was the focus of her dissertation (Teen Space: Designed for Whom?), for which she received the 2011 Eugene Garfield/ALISE Doctoral Dissertation Award. This notion of social control in the built environment was further explored for its utility in creating authentic teen spaces in a course Dr. Lee designed and taught this past year. She has also conducted research on the impact of language on literacy and learning, a topic on which she has presented extensively. Dr. Lee was a recipient of the Library Scholars Program Fellowship at UCLA in 2004 and a Gates Millennium Scholar. She currently serves as co-convener of the Multicultural and Humanistic Concerns SIG.

Dr. Betty J. Turock is Professor and Associate Dean Emeritus at Rutgers University, where for 22 years she was a member of the faculty of the School of Communication, Information and Library Studies. For eight years she was Director of the master's program and Chair of the Department of Library and Information Science. During her tenure the program was named among the top ten in North America by U.S. News and World Report, a ranking it continues to maintain.
Dr. Turock is a Past President of the 68,000-member American Library Association. As President she traveled over 300,000 miles and testified on more than a dozen occasions before the Congress and the Federal Commission on Communications to focus interest on Equity on the Information Superhighway, just and equitable access to electronic information for all people of our nation and the nations of the world. She takes special pride in ALA's Spectrum Scholarship Program, which she founded as President. To date Spectrum has educated more than 700 diverse students as librarians.
Before entering academe, Turock held management posts across the United States in school, public and academic libraries. She has also served as senior advisor in the U.S. Department of Education, Office of Educational Research and Improvement, Library Programs.
With Rutgers colleagues Turock received the ALA Jesse Shera Award for Outstanding Research. She is also the recipient of the Distinguished Alumna Award from Rutgers, the New Jersey Library Leadership Award, the Rutgers Presidential Award for Distinguished Public Service, and the ALA Equality Award. She was honored by ALA as one of the Extraordinary Library Advocates of the Twentieth Century and with the Lippincott Award for distinguished service to the profession, the highest honor bestowed by ALA.
A Charles Weston Scholar, Turock earned a bachelor's degree, magna cum laude, from Syracuse University, and her master's and Ph.D. degrees from Rutgers. She is a member of the Board of Advisors of Johns Hopkins Medicine; the National Undergraduate Library Council, Johns Hopkins University; and the Boards of the American Library in Paris, France; Keystone College, LaPlume, PA; and the Trejo Foster Foundation, Tucson, AZ. Dr. Turock has traveled, lectured, and served as a consultant nationally, as well as internationally in the countries of Russia, India, the People's Republic of China, and Taiwan.