ALISE is Going GREEN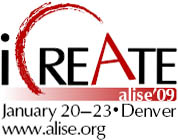 ALISE Is Going Green at its 2009 Annual Conference
Here are the ways ALISE is making changes at its Annual Conference to emphasize "Being Green" and helping to preserve our environment.
Let's Save a Tree: We are printing less and making some items available via a Conference Web Portal.
Landfill Reduction: Conference Participants can choose to bring their own bag, instead of having an official ALISE 2009 Conference Bag.
Carbon reduction: Printing more on site saves on transportation, thus reducing carbon emissions.
Let's Save Another Tree and Reduce Emissions: Watch for your official conference brochure that will be sent via email - no printing, no transportation = saving a tree and reducing carbon emissions.
If you have ideas about how ALISE can be green at its conference, please send your ideas to contact@alise.org.
COPYRIGHT 2008 - ASSOCIATION FOR LIBRARY AND INFORMATION SCIENCE EDUCATION (ALISE)