Call for Papers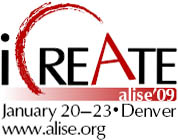 Deadlines
August 28, 2008: 500-word abstracts
August 31, 2008: notification of decision re paper acceptance for publication
September 30, 2008: notification of decision re in-person paper delivery
November 14, 2008: : final paper due, 3,000-5,000 words
December 1, 2008: online proceedings available
The ALISE Juried Papers Committee seeks submissions on the conference theme "i-CREATE" (Information / Culture / Research / Education / Art / Technology/ Experience). The papers should emphasize creativity and innovation towards creating a new model for LIS education for the digital age.
Papers on the topics of cultural and social aspects of information that bring focus to digital contexts are of particular interest. Domains might include digital libraries, archives & preservation, cultural & museum informatics, virtual scholarly communication & literacy, and outreach in a Web 2.0 world. These might include:
using and teaching social networking;
library as conversation;
using and teaching virtual environments;
museums and archives in the LIS curriculum,
physical and virtual interactions in the classroom; and
preparing students to work in new digital frontiers.
This year papers will be accepted to the conference's online proceedings, with a subset of papers selected for presentation during the conference meeting itself. All papers selected shall be considered peer reviewed conference papers.
All papers will be made available online preceding the physical conference. The online proceedings will enable online conversations and discussions of the papers. Authors are expected to monitor these online conversations concerning their papers. The subset shall be selected for their match to the general conference program and the ability to stimulate online discussion.
Only electronic submissions shall be accepted.
Inquiries, abstracts and papers should be sent to:
R. David Lankes, Associate Professor School of Information Studies