The ALISE Academy: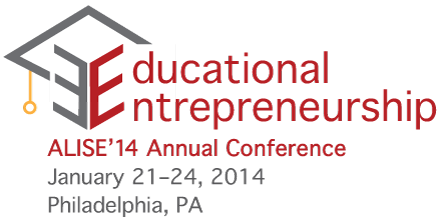 ALISE Academy 2014
MOOCs, Venture Creation, & Education:
Educational Entrepreneurship and the LIS Educator
The ALISE Academy is a half-day pre-conference professional development opportunity that will address educational entrepreneurship and its relationship to library and information science education.
Structure: Participants of the 2014 Academy will choose from one of two interactive workshops.
Pre-registration is required. Enrollment is limited to 30 participants in each workshop. Academy fees will be covered by regular ALISE conference registration.
Target audience: Students and faculty who are at all stages of their careers as educators, researchers, and practitioners.
Academy Workshop Choices:
Workshop #1: MOOCs in Modern Online Education
January 21, 2014 12:30 - 4:30 p.m.

Workshop Leader: Karl Okamoto, Drexel University
MOOCs (Massive Open Online Courses) are the rage. Using technology to teach hundreds of thousands of students at once promises to revolutionize education, or so organizations like Coursera, Udacity and EdEx claim. Others question the impact of MOOCs, asking what is actually revolutionary about teaching with video-recorded lectures. Why are MOOCs different from old-style distance learning? Yes, MOOCs are massive, but have they overcome the lack of engagement and interaction that often plagues online learning? "Massive" and "open" education may have grabbed our attention, but what is needed is an online learning system that engages learners in solving real world problems. Such a MOOC would allow educators to offer hands-on exercises to large numbers of learners while limiting the need for individual feedback. The workshop will introduce participants to the ApprenNet system and its tools for building exercises and facilitating interaction in amassive open online environment.
At the end of this workshop, participants will be able to:
Design, create and administer a massive open online course using the ApprenNet platform.
Design a course that integrates online exercises and "live" programming.
Use ApprenNet as a vehicle for social learning across multiple locations without the inconvenience of travel and different time zones.
Use ApprenNet as a tool to capture distributed knowledge and best practices.
Karl Okamoto is the Director of the Program in Business and Entrepreneurship Law and a Professor of Law at Drexel University's Earle Mack School of Law. He is also the Founder & CEO of ApprenNet LLC, an education company that builds online learning communities, including LawMeets®. ApprenNet is funded by grants from the National Science Foundation. A seasoned corporate lawyer, he has also worked as a startup executive and a hedge fund portfolio manager. He earned his B.A. and J.D. from Columbia University.
Workshop #2: The Promise of Educational Entrepreneurship for LIS Education
January 21, 2014 12:30 - 4:30 p.m.
Workshop Leaders: Mike D'Eredita, John Liddy, Marcie Sonneborn, Syracuse University
The Kauffman Foundation recently found that all net new job creation over the last 10 years is a result of new venture creation. This makes the support of entrepreneurial efforts vital to any field.
Entrepreneurship is a process that can be learned. This workshop will be based both on research on the entrepreneurial process and on years of applied experience centered on the Syracuse University's entrepreneurial program. We will provide an interactive workshop that guides participants through problem identification and solution provision techniques. We will also provide a framework for business modeling and facilitate an open discussion about how to better integrate entrepreneurial thinking into Library and Information Science education programs.
At the end of this workshop, participants will gain:
A foundation necessary to start building a curriculum that includes entrepreneurship and business modeling
A deeper, experiential understanding of the Entrepreneurial Method.
Michael D'Eredita, PhD, is an Assistant Professor of Practice at Syracuse University's iSchool. His focus as a scholar has evolved from individual expertise, to teaming, to communities of practice, to the intersection of these with computing environments. Currently, he is more applied than ever in his effort to help develop a creative startup community in Upstate New York. See http://idea.syr.edu. He is the founder of 3 companies that span the service, consumer product and analytics sectors and has coached national rowing teams from both Finland and Portugal.
Marcene S. Sonneborn, MPA in Health Studies and MBA in Innovation Management – Marketing and Finance is an Assistant Professor of Practice at Syracuse University's iSchool. Her focus in her consulting practice and teaching is in entrepreneurship and creativity with an emphasis on idea generation and business development. Her professional practice is primarily with emerging technologies and their convergence, including IT, biotechnology, cognitive science, nanotechnology, and health and military technologies. She has participated on start-up and university spinoff entrepreneurial teams, academic program development committees, and has had direct management and administrative program responsibility for university and medical school grant-funded centers.
John Liddy currently serves as Entrepreneur in Residence at both Syracuse University and Le Moyne College, helping these institutions advance student entrepreneurial activity and engagement through innovative coursework and hands on activities both on and off campus. As part of his efforts in helping create and evolve these programs, Liddy directs the Syracuse Student Sandbox – a summer program that has grown to include over 80 student teams and over 100 business professionals from the community. He also works with experienced community entrepreneurs (generally with revenues between $500,000 and $10,000,000). Over the last two years he has helped 30 of these companies create strategic growth plans through facilitation of the SBA's e200 program in Syracuse.
---
Registration: To participate in the 2014 ALISE Academy, you must register using the 2014 Conference registration form. There are no additional registration fees. If you would like to attend just the Academy, you may select the one-day conference registration option.
Note: There are only 30 spaces available in each workshop. Spaces are awarded on a first-come, first-serve basis. Waiting lists are NOT maintained.
Updated 10/29/2013