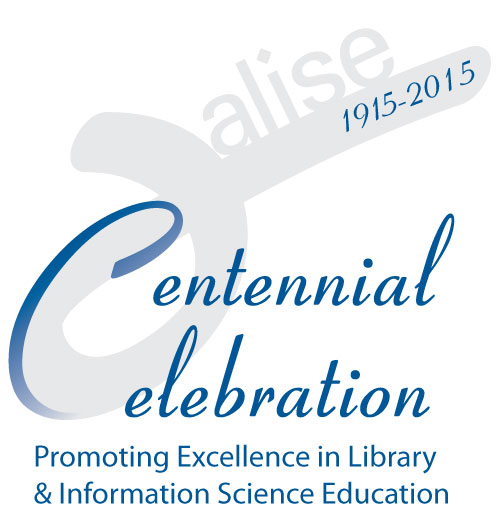 Celebrate 100 years of ALISE in 2015!
ALISE is preparing for its Centennial Celebration in 2015. We are excited about the upcoming festivities. Now is your chance to learn more and get involved.
Centennial Activities
Creating a timeline


Hosted by Viewshare, the timeline will provide a comprehensive overview of significant moments in LIS education. The timeline will include general information about LIS education as well as specific information about colleagues and ALISE member institutions.

Creating a digital interview archive


Centennial Committee members are interviewing colleagues about their roles in LIS education and ALISE. Subjects are being interviewed by members of the Centennial Committee as well as ALISE members. Called "Centennial Conversations," these short interviews are intended to capture as many perspectives as possible.

Growing the ALISE Member-Driven Initiatives
The Centennial Fund for ALISE is striving to raise $100,000 to support three member-driven initiatives.

Get Involved
We need your help showcasing and highlighting milestones in LIS education from the past 100+ years:
Suggest names of colleagues to interview


Contact Centennial Celebration Committee Chair Michele V. Cloonan (

michele.cloonan@simmons.edu

) to suggest interview subjects. Potential subjects will have a history of involvement and participation in LIS education and/or ALISE leadership.
Donate to the Centennial Fund for ALISE
http://www.alise.org/centennial-fund-for-alise


Consider making a $100 donation in the spirit of the ALISE centennial! Your donation will support and sustain future leadership, programming and awards, and improved infrastructure. Visit the Centennial Fund page for more information.
Centennial Celebration Committee
Chair: Michele V. Cloonan, Simmons, michele.cloonan@simmons.edu
Members:
Kendra Albright, South Carolina

Elizabeth Aversa, Alabama

C. Sean Burns, Kentucky

Toni Carbo, Drexel


Trudi Bellardo Hahn, Drexel

Lynne Howarth, Toronto

Christine Jenkins, Illinois

Steven MacCall, Alabama

Bharat Mehra, Tennessee

Caroline Nappo, Illinois

Linda Smith, Illinois

Peta Wellstead, editor,

JELIS
Centennial Campaign Committee
Chair: Elizabeth Aversa, Alabama, eaversa@slis.ua.edu
Members:
Stephen Bajjaly, Wayne State

Diane Barlow, Maryland

Lynne Bowker, Ottawa

Michele Cloonan, Simmons

Samatha Hastings, South Carolina

Steven MacCall, Alabama
Last Updated 1/16/2014